Introduction to Venous thromboembolism
Venous thromboembolism (VTE) is a condition in which a blood clot forms in a deep vein.
The clot or a fragment of the clot may break free and enter the circulation as an embolus, which might end up completely obstructing one of the blood vessels in the lungs causing a pulmonary embolism.
A D-dimer test is used as an aid in the diagnosis of detecting if the patient is suffering from deep vein thrombosis (DVT) and/or pulmonary embolism (PE).

DVT is a relatively frequent condition. It involves clot formation in the deep veins of the body, most frequently in the legs. The clots may grow very large and block the blood flow.
The patient presents with symptoms such as: leg pain, tenderness, swelling, change in colour and oedema.
Due to the high risk of complications like pulmonary embolism, which can be fatal, urgent D-dimer testing, diagnosis and treatment are needed.
A D-dimer test is used to spot what is easily missed – and potentially fatal - an aid in the diagnosis of VTE [1,2,3]

10-30 % PE mortality
650,000 PE deaths every year in the US, the third most common cause of death
400,000 PE diagnoses missed in US patients, approx. 100,000 of these patients die
60 % share of hospital deaths involving PE, diagnosis is  missed in about 70 % of these cases
10 % patients with acute PE who die within the first 60 minutes
One out of three patients who survive an initial PE die of a recurrent PE
A quality D-dimer test needs to have:
A high negative predictive value (NPV). This tells you how sure you can be that the patients you rule out do not have VTE.
High specificity which minimizes imaging on healthy patients.
How to use a D-dimer test [4,5]
D-dimer single test - Sufficient to safely rule out DVT*
D-dimer + NT-proBNP - Effective to distinguish PE diagnosis from heart failure
D-dimer + NT-proBNP and/or troponin I/T – Useful for  determining PE prognosis
* When used in combination with clinical probability assessment
The AQT90 FLEX D-dimer test demonstrates [6]: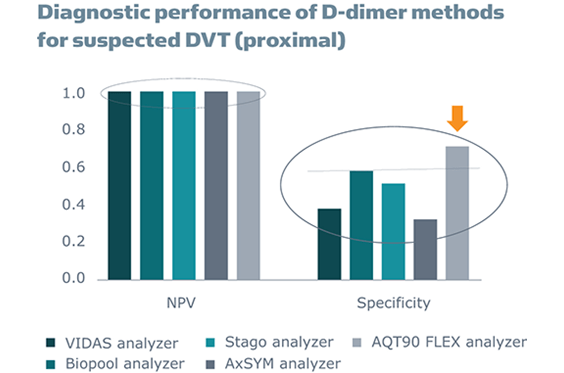 A high NPV, comparable to the values of the best of its competitors – which means less risk of sending ill patients home without treatment.

A very high specificity (a low number of false positive results) - This means less unnecessary and costly imaging on patients without VTE, and more time to spend on the patients who do, in fact, have VTE.
The AQT90 FLEX D-dimer test offers*
More certainty of ruling out healthy patients
More money to be saved on imaging
More time to spend on the patients who are, in fact, ill
* When used in combination with clinical probability assessment
Basic facts on AQT90 FLEX D-dimer immunoassay test
Specificity  71 %
Sensitivity 98 % [7]
Reference ranges (95th percentile)
< 50 years – 630 µg/L
> 50 years – 654 µg/L
Cut-off 500 µg/L



CDC Data & Statistics, Deep Vein Thrombosis (DVT)/Pulmonary Embolism (PE), available at www.cdc.gov/ncbddd/dvt/data.html
Calder KK et al: The mortality of untreated pulmonary embolism in emergency department patients. Ann Emerg Med 2005; 45:  302-10
Laack TA, Goyal DG: Pulmonary embolism: an unsuspected killer. Emerg Med Clin N Am 2004; 22: 961–8344.Ref:
Bates SM et al. Chest 2012; 141(2 Suppl): e351S-418S
Konstantinides SV et al. Eur Heart J. 2014 Nov 14;35(43):3033-696.  
AQT90 FLEX D-dimer CE mark study
Sidelmann JJ, Gram J, Larsen A, Overgaard K, Jespersen J.  Thromb Res. 2010;126:524–530